Kaskaskia Biological Station
The Kaskaskia Biological Station is located on Lake Shelbyville near Sullivan, IL.  Research is conducted on Lake Shelbyville and throughout the state.  Facilities include office space, microscope lab, on site housing, bunk space for up to 8 people, wet lab, workshop, boat shed, storage facilities, and boat ramp access to Lake Shelbyville.
Wet Lab
The Kaskaskia Biological Station is home to a 3,000 sq ft wetlab.  The wetlab includes two environmental control chambers, space for raceway and tank experiments, as well as circular feeding arenas with video surveillance from above.  Outside the wetlab is a number of larger tanks which can be set up in large numbers for replication of mesocosom experiments.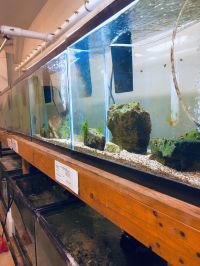 Aquariums and recirculating systems at the Kaskaskia Biological Station wetlab

  Large tanks are set up behind the wetlab to run mesocosom experiments
 Field Work
The Kaskaskia Biological Station employs approximately 5 technicians and numerous temporary interns.  We operate three 16-20 foot electrofishing boats as well as a smaller 14 foot oxbow electrofishing boat.  We have two electric seines and a backpack electrofisher for conducting stream sampling.  Field samples are brought back to the lab and processed at the Kaskaskia lab facility.
The Kaskaskia Biological Station boat shed where three electrofishing boats are housed and maintained.
A technician, John Wisher, processing zooplankton samples at the Kaskaskia Biological Station lab facility.